OUR Bushfire Emergency
The drive down the main street of town was peculiar. On a normal Sunday most of the shops are closed, but the two supermarkets open; so there are always people around and a few cars parked at the roadside. I think we saw one vehicle and maybe three or four pedestrians: it was almost a ghost town. Closer to home that changed - cars and utes in driveways, folk wandering in and out and around their gardens as if nothing had happened. At that point it seemed like a bad dream, but we knew it was for real as did everyone else. Now that we are just on "Watch and Act" we realise it isn't over yet; but the power's back on and we can begin life again in a country town that proved it could withstand whatever Nature threw at it.

Many will now be thinking that they could have stayed - no buildings in the township were damaged, so what was all the fuss about? A look at media footage and the Emergency Services maps quickly dispel this naive notion. The fire came that close (1.6 kilometres). Had it been unattended there would be no town, and anyone foolish and inconsiderate enough to stay would have been lucky to survive. The only reason we did was thanks to the men and women of the combined bushfire brigades, and I'd like to finish this report with a tribute to these amazing people.

A Tribute to Our Bushfire Brigades

Firstly, let's not forget the "career firefighters" as they are called. It may be their regular job, but is a dangerous one and full praise for their invaluable contribution. However, when a bushfire strikes in Australia it is initially down to the local Bushfire Brigades. These are manned mainly by volunteers, unpaid men and women who give up their time to defend the communities in which they live; and it's no weekend hobby. Whether at home or work, they can be called out day or night at a moment's notice and are often required to be on duty for hours at a stretch. Sometimes it extends into days, risking their lives to battle blazes, able to snatch a bite of food and a short rest only if the situation allows. They accept this, as do their families and employers - bushfires are neither considerate nor convenient.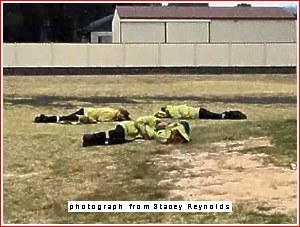 It probably isn't until a disaster of this magnitude hits that the tireless dedication of these unselfish people is truly appreciated. We hear stories of firefighters defending the homes of others while their own is reduced to ash just a couple of streets away. Amidst the chaos they have the compassion to rescue an injured possum, or cut fences so that endangered livestock at least have a chance to escape. They do more than can be asked of anyone, yet they look back on what they couldn't save and blame themselves for not doing enough. The survivors who are only here today because of the courage and determination of these True-Blue Aussies, they know this isn't true. As one of them, I felt the need to post my thanks on social media; and I'll close with those words:

Our Saviours, Our True-Blue Heroes and Heroines

We are here, alive, and our home is untouched, all thanks to you: the men and women of the Emergency Services. No-one ever doubted your courage and dedication and you delivered it in spades. Without your skill and determination, we would not be here today. There were homes you couldn't save, even lives, and you will doubtless be blaming yourselves for that. Please don't. We all know you did far more than even you expected of yourselves. If there is such a place, you have well and truly earned the key to that Heavenly City. Thank you from the bottom of our hearts.
Click this

image to view or print complete article.
Home Display Money Health Focus HandyHints Popcorn Recipes eBooks About Contact
copyright © 2016 All Rights Reserved