Home Money Health Focus Display
HANDY HINTS
an assortment of simple, useful tips and suggestions for the home
Here's the latest:
Microwaved Chicken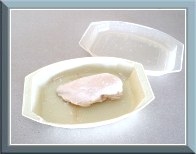 Roasting chicken in the oven is fine when it's a whole bird; but for smaller portions such as breast fillets or pieces it can take a long time and be costly with respect to power. Cooking it in the microwave is much quicker, and it is easy. The chicken breast fillet in the photo was only small - about 200g - and took just 8 minutes. Larger would require a little extra time.
Trim the meat of fat, then place in a suitable microwave-safe dish or boat with about a tablespoon of water. Cover and microwave on 400 watts for 4 minutes. Turn the breast over, replace the lid and nuke on the same setting for a further 4 minutes. Prick with a fork to ensure it is cooked. If not, turn over again and give it another 2 minutes.
More than a single breast, or multiple pieces can be microwaved at the same time, but they are likely to take longer.
See below for links to other Handy Hints pages:

Bicarbonate of Soda

Cleaning

Cooking

Cooking using a Microwave

Doc in a Pot

Fresh Fruit, Vegetables & Herbs

General

In the Kitchen

Mix your own Spices

Safety & Health

Spices & Dried Herbs

Stove top tips
Back to top

also available on this website are the following:
copyright © 2011-2022 All Rights Reserved