In Case of Emergency
In this simplified example, a number of preparations would have made a big difference. Having early-warning smoke alarms fitted should go without saying, but quite a few don't bother, or they forget to check them and change the batteries. A torch next to the bed isn't a bad idea, especially if the area is prone to power cuts anyway. A set of keys on a wall-hook just inside the entrance door solves the problem of being locked in.

Although the mobile phone is often to hand near the bed, wallets and purses containing driver's licence, ID and credit cards aren't always with them. Even if they are, two items are harder to pick up in a rush and can easily be dropped. Consigned to a bum-bag or similar and stowed in a drawer of the bedside cabinet means just one thing to think about.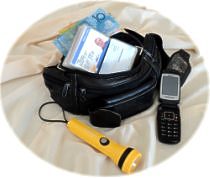 And don't forget to include some cash - electronic payment systems could be down.
As for the real danger, every home should have at least one extinguisher able to cope with oil and electrical fires - even a small one to hand in the bedroom could be a bonus if flames are blocking the escape route. Unless the outbreak is noticed immediately and can be quickly contained, I wouldn't recommend staying to fight the fire. Please leave it to the professionals, and don't put your life or theirs at risk by trying to be the hero they have to go in and rescue.

Each incident that might necessitate evacuation can't always be predicted and carries its own set of initial dangers that have to be dealt with. No-one is expected to be super-efficient in the circumstances, no matter how well prepared. I would suggest that some thought be given to preparedness before the fact, just in case, but a whole lot more extended to the possible aftermath. Assuming those at risk have managed to vacate safely, continuing welfare now becomes an issue. Although devastating enough, a home fire in suburbia is unlikely to leave the victims helpless. Apart from the emergency services on the scene, there are neighbours, friends and family close by or just a phone call away. They can provide on-the-spot comfort, reassurance and all of those temporary needs that minimise the trauma. Later, once the realisation that prized possessions and memorabilia that can never be replaced have all gone, it becomes apparent there is much more to worry about. Also destroyed in the blaze were: birth and marriage certificates, passports, credit cards, driver's licence, computers which held records of everything, business and personal, even mobile phones; plus the insurance policies - the whole kit and caboodle reduced to ash. Loss of these will cause major headaches both immediately and down the track. Maybe the PC towers and laptop would have been too heavy and inconvenient to take out in the rush, but much of the rest, at least the information required for their speedy replacement, could have been preserved along with important data, had a few safeguards been implemented beforehand.
Click this

image to view or print complete article.
Home Display Money Health Focus HandyHints Popcorn Recipes eBooks About Contact
copyright © 2011-2015 All Rights Reserved