G F Friendly


Chicken Monte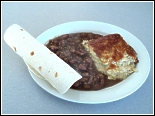 a creamy chilli-chicken bake with Mexican style beans

1 boiling fowl (or pre-cooked chicken)
1 doz flour tortillas (or separated pita bread) cut into quarters
1 can cream of mushroom soup
1 can cream of chicken soup
1 cup chicken stock
2 medium chopped onions
200 ml light sour cream
400g grated cheddar cheese
1 level dstsp chilli powder (less for mild to medium)
1 tsp garlic powder
jalapena peppers (optional)

Cook boiling fowl in water with additional chilli powder, garlic, salt and onion. Drain and discard liquid. When chicken is cool enough to handle, remove from bone, discard skin and any fat, then shred meat into small pieces. Combine all ingredients except tortillas and cheese. Grease a large roasting pan and line bottom with a layer of tortilla quarters. Spread over one third of the mixture and sprinkle on a third of the cheese. Repeat process until all ingredients have been used, finishing with cheese. Bake uncovered in oven on 180°C (165°C fan forced) for 45 minutes, or until cheese is melted and golden brown.
Serve with frijoles and tortillas.
Frijoles
1 pkt borlotti beans (soaked overnight in salted water)
200g pork mince
2 chopped onions
2 beef stock cubes
1 tsp chilli powder
1 tsp garlic powder
½ tsp salt
Drain beans! Put in saucepan, add rest of ingredients and cover with cold water. Bring to boil, stirring to separate mince, then turn down heat and simmer covered for 2-3 hours, stirring occasionally. Top up water as necessary. Remove cover to thicken gravy as required.

Serves 8-10 Both freeze well
Click here to view or print recipe in PDF.