Camping Oz-style Part 2
Cooking on Camp
The Camp Oven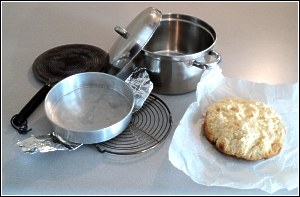 No worries: here's my version of a stove-top (or open fire) camp oven. The items that make it up can be bought from supermarkets - a stainless steel stew pan with lid; a wire trivet plus an aluminium cake tin, both of which fit comfortably in the base of the pan; and, most importantly, a heat diffuser. What you see in the picture above sitting on the baking paper is damper, a yeast-free bread that I knocked up the other night as an example of the oven's versatility. The strip of folded foil sticking out from the baking tin is a safe, easy way of removing it from the pan. The damper recipe is pretty straightforward:

Damper
2 cups plain flour, 1 rounded Tbsp baking powder, 1 tsp cream of tartar,
2 Tbsp light-tasting olive oil, 2/3 cup (approx) milk or water, A pinch of salt (optional)

Mix the dry ingredients together, then work in the oil with the back of a fork to fine breadcrumb consistency. Stir in the liquid a little at a time to form a ball of soft (not sticky) dough. Line the tin with baking paper and lightly press the dough into it. Place the trivet in first, then lower in the tin using the foil "handles". Close the oven with the lid and place on the heat diffuser over a single gas ring set roughly to medium heat. Bake for approximately 40 minutes. The damper is ready when the top springs back and sounds hollow when tapped. The base may burn a bit, but it adds to the taste; and charcoal's good for the digestion! Sweet or savoury pies, quiches and flans are a breeze this way.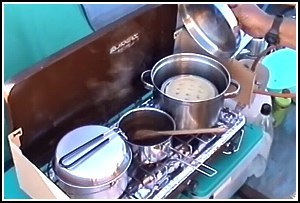 The pie in the picture above was made with the same setup, but swapping a stainless steel bowl for the cake tin. The recipe is basically the Steak and Kidney Pie Recipe 57. If you can't get fresh meat, try canned corned beef with chopped onion. The pans on the cooker beside the oven are available from hardware or camping stores and are the kind that sit one inside the other, saving space. Ours is a three-burner gas camp stove, the plate of which we lined with foil to make it spill-proof and easier to clean.

I'll leave you to figure out your own camp meals. And if you're really serious about this camping gig, try some of the dishes out at home like I did; experiment even; let the kids join in. One last thing - get yourself a tin billy; or make one from a large fruit-juice can and punch a couple of holes under the rim for a wire handle. Then you can make billy tea. All you need is a billy of fresh water and a handful of tea leaves. Start this boiling on the stove or a fire, then put in a sprig of gum leaves and stir occasionally with a stick for five minutes. Fish out the leaves, then pour into mugs (or whatever you've got) and add sugar if you like. As for milk, that's your choice - I reckon it tastes better without.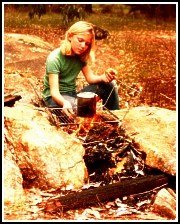 Remember: if you have it at home, you can probably make it on camp. Why not give it a go?
See previous page See next page for Camp Cooking Checklist
Click this

image to view or print the article.
Money Health Focus Popcorn Recipes eBooks About Contact
Where every effort has been made to be accurate and fair-minded, comments and opinions expressed on this website are based on personal experience and do not necessarily reflect the views of the wider community or those groups and institutions mentioned. A Season of Happiness and its staff accept no responsibility for any outcome based on suggestions offered. What works for us may not work for you. Please bear this in mind.
copyright © 2011-2016 All Rights Reserved