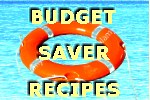 Latest Budget Saver Recipe:
Concoctions

Recipes made up as you go along
Many people are doing it tough, so we have introduced a new section devoted to good eating at a lower cost. A different recipe will appear at the beginning of each month, and ingredients used, as far as we have been able to ascertain, are of the cheaper variety. They still make for tasty meals, though, and because we recommend fresh produce where possible, they are the healthy option to processed foods. Needless to say, we wouldn't expect you to eat anything that we haven't tried ourselves, and the pictures of the dishes were taken immediately prior to serving up. Many are Gluten Free and these bear the G F Friendly tag meaning they can be made using gluten-free products.

There has been an amendment to the method for Shepherd's Pie BSR11 - Apologies.
For more budget saver recipes Recipes 17-32 Recipes 33-end
Money Health Focus Popcorn Recipes e-Stories eBooks About Contact
copyright © 2011-2023 All Rights Reserved