The Old Round House

by Dave Hawkins
A science-fiction fantasy for readers from Nine to Ninety
Have you ever acted out a fantasy; imagined you were James Bond or Luke Skywalker? Terry has, many times. For a young schoolboy, role-playing is far more interesting than boring reality. Mind you, occasionally it does get him into strife; but he usually manages to find solutions to problems of this kind. While acting out yet another make-believe character, he stumbles across an old gazebo in an overgrown garden, and it fits in very nicely with his current scenario. Shortly, however, nice will be taking a back seat.

This fourteen year old is about to discover that even apparent reality is not all that it seems; and here will be one problem which can't be easily fixed. When he unwittingly sets in motion a series of events over which he has no control, Terry is suddenly thrust into an adventure far beyond his wildest dreams.

At times like this when a fantasy of his was starting to get a little too scary, he would just wish everything back to normal; but, for Terry, 'normal' has become a thing of the past. He can't close his eyes and make this one go away; not when so many lives are at risk; not when he is the only person in the entire Universe who has the power to save them!

The Old Round House is a short science-fiction novel that has been adapted for publication on A Season of Happiness. Originally serialised in six parts, the complete ebook is now available in PDF format and can be downloaded FREE: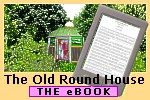 The Old Round House © Dave Hawkins 1982/1997
Published by A Season of Happiness © DV & KR Hawkins 2019
A Season of Happiness - helping you towards a better lifestyle
Copyright © 2011-2020 All Rights Reserved.